Trust and confidentiality
ClearTalents™ At Work has been created to assist in the provision of adjustments at work to make your work life as effective and enjoyable as possible for you as an individual. The aim is that you will feel better at work, be confident about the culture, how you fit in with colleagues the general conditions at your place of work so you are able to perform at your best.
These adjustments may be as simple as avoiding a particular time of day for a meeting or more substantial adjustments including work place design or alterations to your operating equipment. What these changes all have in common is that they are here to support you.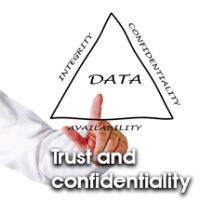 For many people, sharing of personal information can feel intrusive or even a little scary and that's why ClearTalents™ At Work exists. The information exchanged here is only ever used to inform the organisation about the impact work is having on you personally to guide the organisation to make the most appropriate changes to reduce any negative impact.
The information will be treated with respect and stored confidentially outside of the organisation on secure servers. Information will be shared on a need to know basis only with approved members of the management team.
The individuals completing ClearTalents™ are always in control of what they feel ready to share and each person who completes a profile receives their own report to review. We encourage everyone to share as much as they feel able and we have designed a process to make that really easy for you.
The more we know about an individual and their circumstances the more options we can explore to improve your quality of life at work. If you have any concerns about what ClearTalents™ At Work is for and how it is used, refer to the FAQ section of the site or email enquiries@theclearcompany.co.uk